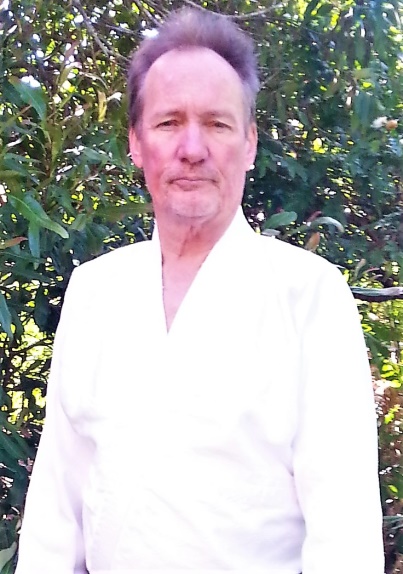 I studied Judo, Ju Jitsu and Boxing in my youth. In my twenties I studied Tai Chi, some Chi Kung and a Daoist style of Martial Arts. I had a long hiatus from Martial Arts training until 1999 when in my work with boys and youth at risk I came upon a program from the Netherlands called Rock & Water. A psycho-social skills program for boys that combined the key principles of Aikido and Tai Chi. I was fortunate to meet the founder of this program, Freerk Ykema, and supported him with the promotion and presentation of Rock and Water in Queensland between 2000 and 2002.
This re-sparked my interest in Martial Arts and as Rock and Water was primarily based on the principles of Aikido I became curious about this almost magical Martial Art. In 2009 I started training at the Goshinkan Dojo in Byron Bay with Elisabeth Andel Sensei and Jim Nichols Sensei. When Michael Williams Sensei returned to Australia in 2010 I began training with him. I joined the South Tweed Dojo in January 2016 and have trained with Mark Evans Sensei and Mark Albrecht Sensei.
The Ki of the Universe has never for a moment stopped moving. We call this continuous growth and development.
Koichi Tohei Sensei
---
KI-CHI-DO
KICHIDO:
The Path of Positivity
KICHIDO PRACTICE 
Mindful Breathing, Movement & Relaxation Techniques & Exercises:
KICHIDO PRACTICE is based on slow, rhythmic and integrated breathing, movement and relaxation exercises, techniques and practices and teaches the Foundation Skills of;
Being Grounded: The ability to feel your feet on the floor/ground/earth and your body orientated in time and space. Being Grounded also assists in the creation of a true sense of internal safety and security, an essential life skill for creating and maintaining healthy and respectful relationships.
Being Centred: Approximately 2-3 finger-widths below your navel is your centre, also called your Hara or One-Point. Literally, your Centre is the centre of Gravity and Balance in your body. It is also your Centre of Relaxation and Calmness.
Being Present:  Being Grounded and Centred provides you with the awareness of Being Present. Grounded and Centred in this moment NOW! Being Present creates Presence, the relational glue needed for creating and maintaining safe and respectful relationships.
KICHIDO PRACTICE helps develop;
  BALANCE,
  HARMONY,
  CALMNESS,
  FLEXIBILITY,
  COORDINATION &
  POSITIVE MENTAL OUTLOOK
WHEN: Commencing Wednesday November 29th 7:00-8:30pm (EDST).  We plan to break on 20th December & return 17th January for KICHDO   
WHERE: Aikido Goshinkai South Tweed Dojo, South Tweed Sports Club, 4 Minjungbal Dr, Tweed Heads South NSW 2486
INVESTMENT: $10 per session regular attendance & $15 casual attendance
CONTACT: Gary Simpson 0408 687 219