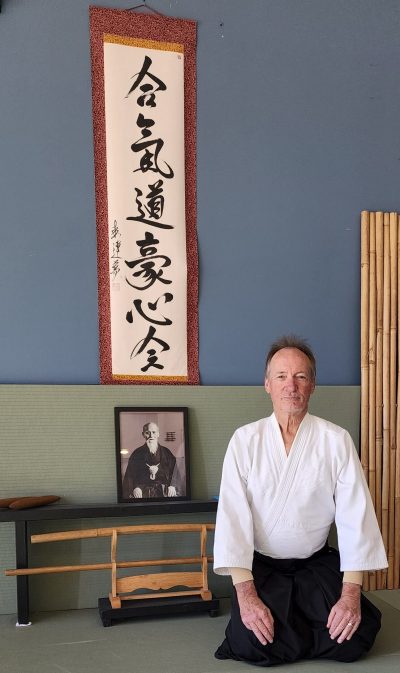 Gary Simpson Sensei passed away on the 23-7-2023, age 69.
To Robyn and family on behalf of the Aikido Community, please accept our deepest condolences.
Gary had so many parts to his incredible life, and I would like to share one part of that life that was so well lived with you, Gary's Aikido journey, in some of Gary's own words –
Gary studied Judo, Ju Jitsu and Boxing in his youth. In Gary's twenties, he studied Tai Chi, some Chi Kung [ gee-gong ]  and a Daoist style of Martial Arts. 
Gary had a long hiatus from Martial Arts training until 1999, when in Gary's work with boys and youth at risk, Gary came upon a program from the Netherlands called Rock & Water.  A psycho-social skills program for boys that combined the key principles of Aikido and Tai Chi.
Gary was fortunate to meet the founder of this program, Freerk Ykema who supported Gary with the promotion and presentation of Rock and Water in Queensland between 2000 and 2002.
This re-sparked Gary's interest in Martial Arts and as Rock and Water was primarily based on the principles of Aikido, Gary became curious about this almost magical Martial Art.
In 2009 Gary started training at the Goshinkan Dojo in Byron Bay with Elisabeth Andel Sensei and Jim Nichols Sensei. When Michael Williams Sensei returned to Australia in 2010 Gary began training with Michael Williams Sensei. 
Gary joined our Tweed Dojo in January 2016 and continued his training with Elisabeth Andel Sensei, Mark Evans Sensei and with myself.
This is what Gary had to say about his journey but there is so much more to this story –
Gary became a teacher of Aikido at Tweed Heads Dojo and was my right hand.
Gary Sensei had started the process of grading to his San-Dan which is a third level of black belt, when Gary was taken from us.
Gary Sensei has became an integral part of our Aikido community.  Gary has always help others, offering a helping hand, a gentle ear, and quick with a good story or two that would leave us amazed and help put things into perspective.
Gary is so much more to us, than my simple words could hope to explain. Gary is a kindred spirit, a true friend, and someone we will miss dearly.
Gary, I hope wherever you are, you are at peace, and starting a dojo.  I will miss you brother.
Mark Albrecht Sensei 
"The Ki of the Universe has never for a moment stopped moving. We call this continuous growth and development."

Koichi Tohei Sensei